The Hardrockers 2022 football season broke a lot of ground and set several milestones. Now, the program is brimming with optimism for the future.

The South Dakota Mines football team had shown flashes of respectability in the Rocky Mountain Athletic Conference (RMAC) and as a Division II program but could never quite get over the hump.
That is until the 2022 season.
It was a memorable campaign for the Hardrockers as they had a winning season in RMAC play for the first time in its history, finishing in fourth place in the ten-team conference at 6-3, one game behind both Colorado State-Pueblo and Western Colorado (7-2). Colorado Mines won the league with a 9-0 record.
Mines capped off the season with a 28-7 win over Chadron State College on November 12, breaking a 15-game losing skid to the Eagles. It was the first seven-win season for the program in Division II play and the first since 2010.
The Hardrockers also finished with back-to-back winning seasons for the first time since the 1984-85 seasons. Since 1986, Mines had 28 seasons of below .500 play.
Completing his third season with Mines, head coach Charlie Flohr is now 15-11 at the helm, going 2-2 in the COVID-shortened 2020 season and 6-5 and 7-4 in the past two campaigns.
Flohr says the season's success came from all involved – players, coaches, school administration, and the fans. He says that when he came to Mines for the interview process before the 2020 season, it wasn't just about the players or coaches, but they all had to have the same belief system within the complex and within the university.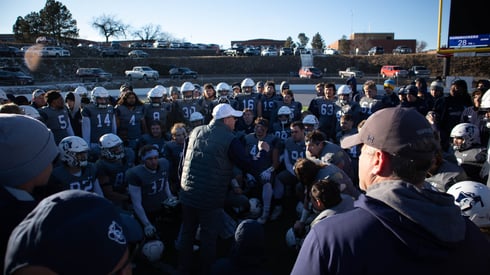 "It says a lot about our administration," says Flohr. "President Jim Rankin, (EE 78), and Joel Lueken, our director of athletics, and everybody that's affiliated with South Dakota Mines football, just all of the hard work that they continue to put in our program. It's starting to show and reflect even with our kids. They're continuing to show up to work hard every single day and we're competing and playing in a lot of good football games."
Before Flohr took over in 2020, the Hardrockers had been close under previous head coach Zach Tinker with three straight 5-6 seasons (2016-18), including three 4-6 campaigns in league play. In 2019, however, the 'Rockers dropped to 2-6 and 3-8 overall.
Rankin was named the nineteenth president of the school in November of 2017. He says this easily was the best and most enjoyable football season since he has been back with the school.
"To get our record at 7-4, two winning seasons in-a-row, that is fantastic," says Rankin. He keeps an older regulation gold Mines football helmet on his desk. "You look at the RMAC standings and we're right up there towards the top, so that was good to see. It really has been a change. It was fun to see all the fans show up, to see all the ramps full, to see the students over in the stands."
Flohr says that improvement doesn't happen overnight. Regarding some of the changes they've made within the football program, he calls it better for everybody on campus. "The Covid year was obviously tough, not knowing it would happen when I took the job. But it really made me better, it made the staff better, and it made our administration better," he says. "We really had to sit down and focus on the things that we wanted to do early. It's been a good, slow process, but anything that's going to have some success is going to take a little bit of time, and we're very thankful to our administration and our players for allowing that to happen."
One of four team captains, senior offensive tackle Connor Smith says that last season's 6-5 overall record gave them an idea that better things were in store for 2022.
"Going straight into the offseason, we were all talking about, 'hey, we can be better than last year,'" Smith says. "The fact that we did, that was huge, and it all goes back to the work we put in from the end of last season to the beginning of this season. I think with getting respect throughout the conference, we were a team to actually be worried about. That's a huge thing that each year this program can keep building on top of that, earning that respect."
Another senior captain, defensive end/linebacker Kyante Christian, says their high expectations allowed them to push each other to get to the seven-win season, and more importantly, to six wins in RMAC play. "We knew that we had the team that could be successful, and we had all the pieces to be successful," he says. "So, it was just making sure that we put everything together, and everybody did their individual part in the off-season. There was no doubt in our minds that we were going to have a successful season. We feel like we kind of fell short of some goals; we feel we could have been better than we were, but that is just how the season played out."
Former Hardrocker wide receiver (1993-1995) and South Dakota Mines Athletics Hall of Famer Ryan Cadwallader (CE 96) says the program has taken steps in the right direction and he looks forward to the future. "The first step is getting over the hump and getting in that mode of winning and having a competitive winning season," he says. "The next step is getting to the top, and we're not at the top yet. We're getting close and I think we're a couple of guys away and a couple of key plays away and we can get there. I really think he (Flohr) has the guys going in the right direction. He has some good kids coming in and he has some good leaders in key positions."

The Hardrockers never lost two games in a row during the 2022 football season, and that enabled South Dakota Mines to stay in the upper echelon of the Rocky Mountain Athletic Conference for the first time in school history.

To stay in the hunt, the Hardrockers needed some momentum after its two non-conference games against Missouri S&T and Truman State, both out of the Great Lakes Valley Conference. They got a split and went on to finish 6-3 in league play, good for fourth place behind Colorado Mines (9-0), Colorado State-Pueblo (7-2), and Western Colorado (7-2).

Mines opened the season in Rolla, Mo., against Missouri S&T, another engineering school. Mines dominated from the start for the 43-20 win.

Redshirt-sophomore quarterback Jayden Johannsen opened on fire as he and redshirt-sophomore receiver/kick returner Isaiah Eastman both earned RMAC weekly honors -- Johannsen as Offensive Player of the Week and Eastman as Special Teams Player of the Week.

Johannsen was 20-of-28 passing for 433 yards and four touchdowns, while Eastman had an 85-yard punt return for a score as well as two receiving touchdowns.

Mines head coach Charlie Flohr says he knew the Missouri S&T game would be a tough place to open the season as he had coached against the Miners while he was at Northwest Missouri State. "The way our kids were able to come out and play for a full 60 minutes in that first football game just says a lot about the leadership, the amount of work they did over the course of the summer," he says. "They put in a lot of time in the summer and wanted to make themselves better. We had a good fall camp, and when you're starting off on the road with that big of a road trip, it can be difficult. But I was really happy with how they handled themselves. For us to go out and play the way we did in week one on the road made me feel a lot better about what direction we were moving as a program."

Truman State finished 9-2 on the season, recently winning the America's Crossover Bowl on Dec. 3 against Tiffin University, 28-27. The Bulldogs came to Rapid City and held on for a 27-20 win. In that game, Mines scored two fourth quarter touchdowns to close the gap after a slow start.

In their RMAC opener, the 'Rockers bounced back to stop Colorado Mesa 31-17 in Grand Junction, Colo., scoring 17 points in the fourth quarter, highlighted by two long Johannsen to senior Jeremiah Bridges touchdown passes of 63 and 60 yards.

Bridges was named the RMAC Offensive Player of the Week with eight catches for 174 yards and three TDs. He also had 37 yards rushing on two carries.
Mines opened the conference season at 2-0 for the first time in its RMAC history with a tough 41-27 win over New Mexico Highlands, leading 41-14 going into the fourth quarter. Johannsen had 452 yards of total offense (333 through the air and 119 rushing) for another RMAC Offensive Player of the Week award.

The Hardrockers, however, couldn't find the end zone enough in their big Black Hills Brawl rivalry game with Black Hills State University, falling 24-17 at O'Harra Stadium. Mines nearly doubled the Yellow Jackets in total offense, 447-243, but turned the ball over four times.

The 'Rockers then split a pair of games, upsetting last year's co-league champion Western Colorado 38-10 in Gunnison but fell to 2022 eventual league champion Colorado Mines at home 48-20.

"I don't think people expected us to do as well as we did this year, especially at the Western game. I don't think people expected us to go out there and play as well as we did," Mines senior offensive tackle Connor Smith says. "I think that definitely opened up some eyes."

The Hardrockers rebounded again for a pair of wins, 65-20 over winless Fort Lewis in Durango, Colo., and 23-20 over a scrappy Adams State team at O'Harra Stadium.

Against Fort Lewis, Johannsen was just 18-of-29 passing but threw six touchdown passes in earning his third RMAC Offensive Player of the Week honor of the season - the most in program history for one individual in a single season.

The 'Rockers struggled for the first time on the road, falling to Colorado State-Pueblo 45-20, but finished off the season with a 28-7 home win over Chadron State College on Senior Day. Wins against Missouri S&T, Western Colorado, and Chadron State were signature victories for the 'Rockers.

Flohr called the Hardrockers battle ready in the win over Western Colorado, which tied for the 2021 RMAC title with Colorado Mines and also earned an NCAA playoff bid that season.

"Did I think the outcome (score) would have been the way it was? No, I thought it would be a little bit closer football game than it was, so I was just proud of our kids," he says of the Western Colorado victory. "That was probably, of all of the wins that we had during the course of the year, kind of the one that really established where we're at within the league. We kind of opened some eyes that our program is at present and we're maybe not the old South Dakota Mines of the past."

Looking back at their four losses to Truman State, Black Hills State, Colorado Mines, and Colorado State-Pueblo – two were against NCAA playoff teams (Mines and Pueblo), one was against a Truman State team that finished just outside of the playoffs, and another was against a rival team -- Black Hills State -- that finished 7-4 as well.
"Obviously you want a few of them back, but knowing how close we were, that should continue to motivate our kids and the program, that we're not that far off," Flohr says. "If we continue to make strides, we can continue to stay consistent as an upper tier team in the RMAC."

The win over Chadron State was a strong psychological one for the program as the Eagles have had a long, rich tradition of football going back to the early 2000s. South Dakota Mines was 0-8 against them since joining the RMAC in the Division II era, so for the first time, they were able to hoist the Eagle Rock Trophy which goes to the winner of each year's rivalry game.

In his post-game speech to the team, Flohr did just that to a loud roar from his players.

"To come away with a 28-7 win against a rival on Senior Day to finish out the year, again that just goes to show the toughness, the grit, and the resiliency that our kids had," he says. "That was the one game they had marked on their calendars for a long time. It was big from the psychological standpoint that we can do it; we can compete with the upper tier teams in the conference. It really is going to continue to motivate us in this off-season."

Improvement on the offensive and defensive ends
At times this season, the Mines offense, led by Johannsen, Eastman, Bridges, and a consistent offensive line, was among the best in the country.

Maybe the difference between the 2022 team and some other teams from the past few years was that the offense didn't necessarily have to put up 40-50 points a game to win.

The Mines' defense, under the leadership of defensive coordinator Vance Winter, showed marked improvement over the last couple of years, especially this season.

The Hardrockers improved from 428 yards given up defensively a game in 2019 to 351.6 this season and 30.09 points to 24.09 points. In their seven wins, Mines gave up just 121 points (17.3 ppg.)

Flohr says that statistically the coaches sat down and looked at some of the major factors of what made the defense improve. That improvement started up front.

"We had one of the best front sevens that South Dakota Mines has had in a long time. That's where it all starts," he says. "We were able to get a lot better against the run, which is something that's going to be big for us. We're trying to make a team a little bit more one-dimensional during the course of a football game. It's such a pass-happy league where our numbers aren't maybe where we want them to be, but we know it's a tough league from a passing standpoint. We've continued to make great strides on the defensive side of the football. Coach Winter and his staff have done a really good job of getting our kids to believe in a new scheme that we continued to use."

Senior linebackers Kyante Christian and Gavin Chaddock were both named First-Team All-RMAC for the second straight season and Christian also was named D2CCA Super Region 4 second team. Previously, no South Dakota Mines football players had earned this accomplishment. Christian says they can credit the leadership from the preparation the coaches set out for them.

"The defensive coaches put in a lot of time within the film room, on the whiteboards, things like that, on prepping us to be in the best situations. The guys did the same thing," he says. "That personal responsibility, that accountability part was huge, especially on the defense where we saw that tremendous growth where we're able to win those close games like Adam State, where the defense can go on field and everybody's confident we'll get the job done. That was one of the things that we're really proud of and just making those small steps and improving on. The 2019 season we were giving up 200 yards a game rushing. The season after that we were giving up 140 and this past season only 110. The constant growth and working to better ourselves and better our craft shows in the numbers and it shows on film."

Offensively, the Hardrockers made some strides as well in the last two full seasons under Flohr and offensive coordinator Ryan Gent.

Mines averaged 31.45 points a game, up from 28.0 per game in 2021 and 24.1 points a game in 2019. Johannsen, one of forty-eight players in the country nominated for the Harlon Hill Trophy, given to the top offensive player in Division II, finished the season completing 249-of-394 passes for 3,199 yards and twenty-eight touchdowns. He also ran for 526 yards and eight scores. His 338.6 yards off total offense per game is second in the country.

Johannsen had two outstanding weapons to throw to in Bridges and Eastman, who likely formed the top receiving duo in the conference. Eastman, who was Second-Team All-Conference, led the team in receptions with eighty-six (fifth in the country) and second in yards at 1,104 (100.36 yards per game, ninth in the country). He caught ten touchdown passes.

Bridges, a First-Team All-RMAC player and second team DCCA All-Super Region 4 performer, caught seventy-nine passes (ninth in the country) for a team-leading 1,233 yards (112.09 per game, seventh in the country) and twelve touchdowns.

"The offense knew that we had to step it up from last year because we knew our defense would be pretty good this year," Smith says. "We had player meetings all over the summer because the coaches couldn't be involved, so we took it upon ourselves that, 'hey, we want to be good, so we had to do that stuff.'"

As a team, the 'Rockers had 1,397 yards rushing and 3,470 yards passing for 4,867 yards (442.5 yards per game). In 2019 they averaged 334 yards per game and 376 yards per game in 2021.

"A lot of the strides we made are just the kids having the understanding of what our offensive scheme is, having another year under their belt with what we are doing," Flohr says. "It's also having that comradery. They have spent a lot of time together as an offensive unit in the off-season and you were able to see some of those connections during the course of the season. I was very proud of how we continued to show improvement, not only from last year to this year, but from week one to week eleven this season."

Mines' Alumni, administration, and fans are a big part of the recent success on the field
That success on the football field didn't go unnoticed by the past Hardrockers who put on the shoulder pads and those alumni who support the program.

On a weekly basis, head coach Charlie Flohr received emails in regard to how proud the alumni are of the team and how much it means to them to know that they're still a part of the football program, even though they're not playing anymore.

The Hardrockers had their first seven-win season (7-4) since they became a Division II program and were 6-3 in Rocky Mountain Athletic Conference play, their best-ever record, and placed fourth, their highest finish in RMAC play.

"The support they have shown has been great, and they want us to be just as successful as we are," Flohr says. "We just want to continue to put a good product on the field that they can continue to be proud of us."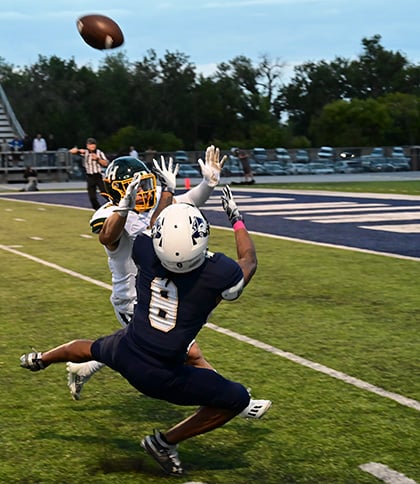 President Rankin was at the University of Arkansas before he came back to Mines. As a Southeast Conference (SEC) program, he says their alumni and fans "lived and died" whether they were winning or not winning. He says the donations coming into the University and the Razorback Foundation were mostly based on winning. "We had a good year of fundraising this last year and I'm sure some of that's been tied to athletic performance, so that's always good to see," he says. "We're at a little bit of a disadvantage in South Dakota. I cannot discount tuition. If you're coming and our tuition is $12,000 a year and you are a great athlete, I can't just say, 'OK, we'll pay you $4,000.' We can only give scholarships from money that's been donated, so it's important for us to be able to provide scholarships to be able to recruit good athletes and good students."

"It is always easier to make a call when you have a winning season. Joel Lueken and his team and Maria Cadwallader over at the Hardrock Club, have to go out and raise funds; that's what keeps our facilities going and that's what keeps the scholarships for the athletes coming in. It always helps when you have a good story to tell."

Senior offensive tackle Connor Smith says that he has heard back from recent players who graduated and says they were talking about the season. He added that going out in the community, he would hear from people who says they used to play for Mines, so he says it was fun to see how the team is performing. He says the alumni were noticing them this year.

"When you can see a winning season or see your team perform well, obviously we're going to get more support throughout because everyone wants to win and everyone wants to be successful," he says.

Ryan Cadwallader, a wide receiver for the Hardrockers from 1993-95, is a 2012 inductee to the South Dakota Mines Athletics Hall of Fame. He still holds a handful of the school receiving records, including yards in one game (212), touchdowns in one game (four), and thirteen touchdowns in a season. Cadwallader, who works for TCC Materials in Rapid City and Sioux Falls, says the Hardrockers have taken a good step forward with the last two seasons, especially the 2022 campaign.

"Charlie (Flohr) is doing a great job of getting his boys to buy into his philosophy," he says. "We've had flashes of good and very good, but it is great to see him put together successful seasons back-to-back and trying to get the momentum rolling. To get seven wins this season it was great to watch the kids compete and even the games they lost they were in a lot of them. It was fun to watch."

As a former Hardrocker, Cadwallader says the momentum is a good thing to see. "A lot of us put in a lot of blood, sweat, and tears throughout the years while we were going to college and to see the current staff have success, it is great," he says. "It's great to see them compete. It gets your juices flowing, remembering what it is like when we played."

Barry Granger, (ChE 81) who played linebacker for the Hardrockers from 1978-80 and was inducted into the Mines Athletics Hall of fame in 2017, says it was great to see a strong seven-game winning season for the Hardrockers.

"Coach Flohr and his staff have done a great job rebuilding the program," he says. "Congratulations to the seniors for their strong leadership and positioning the team for future success."

Cadwallader says that winning solves a lot of things and people want to be part of a winning program by giving back. He says he has no qualms about giving to the program with the direction it is going. "It's great to see our investment get a little in return with how they are playing," he says. "They (players) are really some good students as well. Mines has always put out good students that have been successful out in industry and hopefully that gets everybody else on board in getting some money returned and seeing where it is going to help these guys have success on the football field and in life."

There's little doubt that South Dakota Mines provides one of the more interesting game-day watching experiences than any team in college football with the three-level ramp that hosts approximately 350 parking spots. Hardrocker fans can reserve a spot and watch the game from their car, often blasting their horn on third-down defensive situations. Or they can just tailgate for four quarters while watching the game.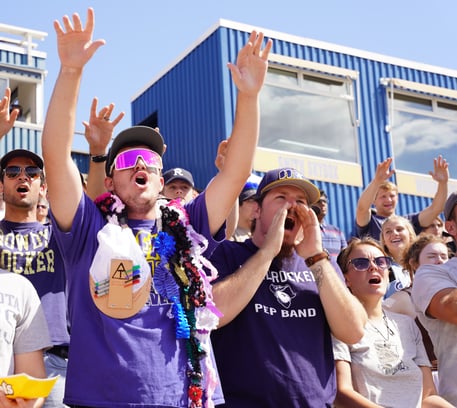 It doesn't go unnoticed by the Hardrockers or even their opponents. "This place is just awesome," a New Mexico Highlands player shouted along the sidelines before the game, looking back at the ramp. Senior defensive end/linebacker Kyante Christian says it is one of the aspects of playing at O'Harra Stadium that he will never forget.

"Every time you looked on Twitter or Instagram, there was a picture or something saying the ramp was sold out," he says. "I think it happened four or five times throughout the season, so we were getting that much support from the community, from the school, from the administration, and from the fans. Without that support I don't know if we have the same season, so credit to them for showing up and really pushing us over that hump, getting multiple winning seasons and getting that seven-win season. We couldn't have done it without them."

Rankin smiles when talking about the ramp. "There's a lot of horn honking when the other team is third down and long and they're trying to distract the other team. That is a little bit of an advantage," he says. "We've changed our tailgating for the president's tent and alumni, so fans can also sit up there and watch the game at a table. It's really been a good experience."

Leadership came from a large senior class
The 2022 season saw eighteen seniors play their final game against Chadron State on November 12. Flohr credits much of their success to that senior class. He says they did a good job of regrouping when they had some bumps in the road.

The Hardrockers never lost two games in a row during the season. "Knowing that we couldn't change the past, we had to continue to focus on the future," Flohr says. "Every week our kids showed up prepared and knew the preparation during the course of the week was ultimately going to be what the outcome was at the end of the game. For us to continue to show progress has a lot to say about the type of kids we have in a program, especially the eighteen seniors and our Leadership Council, to keep our kids moving forward."

Much of the 18 seniors on this year's squad were recruited by Tinker's staff, although Flohr was able to bring in a few himself the last couple of years. Regardless of how they got to Mines, he says the team bonded well and especially connected as a senior class.

Flohr says the Mines coaching staff sat down in January with the seniors and talked about what they're going to need to do to continue the program moving forward in the right direction. "When you go back and look at every good program, not only at the Division II level, but every successful program, a lot of them are player-led, and hopefully we're giving them the right tools as a staff to be successful," Flohr says. "I tried to give our kids as much of that as I possibly could. Those seniors did a great job of relaying a lot of the information that we felt we needed to do for the rest of our football team. We didn't have any issues. Our kids were responsible, and they were accountable. We got better every single day, and ultimately for a head football coach, that's something I want to see within our program."

Looking for more success
For Mines, reaching seven wins for the first time in twelve seasons and back-to-back winning seasons for the first time in over thirty-eight years, it is a time to celebrate improvement. It's not a time to be satisfied and complacent with that improvement.

Although the Hardrockers lose a strong senior class, they return plenty of younger talent. Of the twenty-two starters on both sides of the ball from the final game against Chadron State, thirteen return – seven on offense and six on defense.

"For the future teams, we still have a lot of young guys that have a lot of potential, which is huge, so that it's not just a big drop off after this year," Smith says.

Flohr says that every good corporation, every good business, and every good program wants to continue to be consistent. He says it's obviously harder to stay at the top than it is to get to the top. That is something they continue to educate their players on because they've continued to show progress within the last couple of years.

"You've got to be thirsty, you've got to be hungry for more, and we can't be stagnant of the things that we did," he says. "Just because we did these things this last year doesn't mean we're going to do the same things again next year. I think our program is a little bit more on the map for a lot of teams. They know that maybe we're not the old South Dakota Mines team from the past. That is something our kids have to understand every single day is we've got to show up, we've got to get better every single day and we have to continue to keep our standards high."

What are the Hardrocker standards? Flohr believes they are different now than they were before he got this job.

"That's what drives me every single day. I think that's what drives our kids every single day, to show up and continue to give their best knowing that they're still a lot more out there that we can accomplish," he says. "We have a lot of good players coming back. We have a lot of players who are still young, but they got good quality game experience this past season.

"What I'm really excited for is we're going to have a new group of leaders stepping up and being those leaders within each position group, as well as a football team. Now it's time for us to kind of reset the page and look forward to next year and use all of the things that we were able to accomplish last year to help motivate us for what we want to do moving forward.