South Dakota Mines computer engineering major Jaxxen Cheney has built a model of the university campus inside the popular video game Minecraft.
The game allows users to create worlds inside the platform with sets of digital building blocks. A video of the rendering is here, and an album of photos showing the South Dakota Mines campus in Minecraft can be found here.
"I've been playing Minecraft since I was a kid," says Cheney. "It's not a difficult game to play and it's very accessible. I like that you can play it with many other people."
The Minecraft version of the Mines campus includes both inside and outside of buildings to scale. Cheney used Google Earth to help build the model and completed much of the university campus after graduating high school. He says he undertook this effort to help familiarize himself with the school he planned to attend.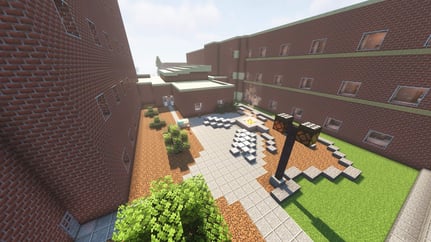 "I didn't know the campus very well before I became a student. When I first arrived, I got lost all the time," he says. "Once you get yourself familiar with campus, it's easy to navigate. I think this could be a great tool for incoming freshmen to explore the campus before they come to school."
Cheney has opened the door for collaboration with other students who are adding their own details, including decorating insides of student housing common areas and filling in the insides of buildings such as university's Museum of Geology. Some university alumni are even building virtual renditions of their own freshman dorms inside the platform. Cheney also used the campus he built in Minecraft as a project in one of his humanities classes.
"Campus is constantly changing and so this will always be open for users to update and collaborate on the build," says Cheney. "People can customize their own dorm or update changes in a building they may frequent. I also love it when people correct my mistakes and make improvements," he adds.
Minecraft reports 93 million users worldwide. Cheney's effort follows other university students around the country who have replicated their own campuses in the platform including MIT, Boston University, UC Berkely and many others.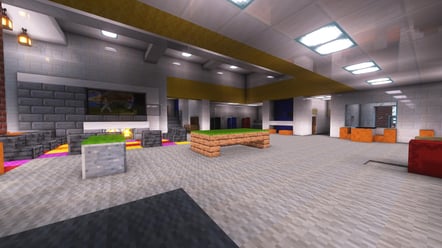 Cheney invites Minecraft users to join this Discord chat site to learn more about the effort and to take part in the ongoing build of campus. Instructions on how to enter the Minecraft version of the Mines campus can be found in the description of this YouTube video Cheney posted to his channel. Those already familiar with Minecraft and can access the platform on a PC or mobile device via the server address 51.68.204.36:25610.